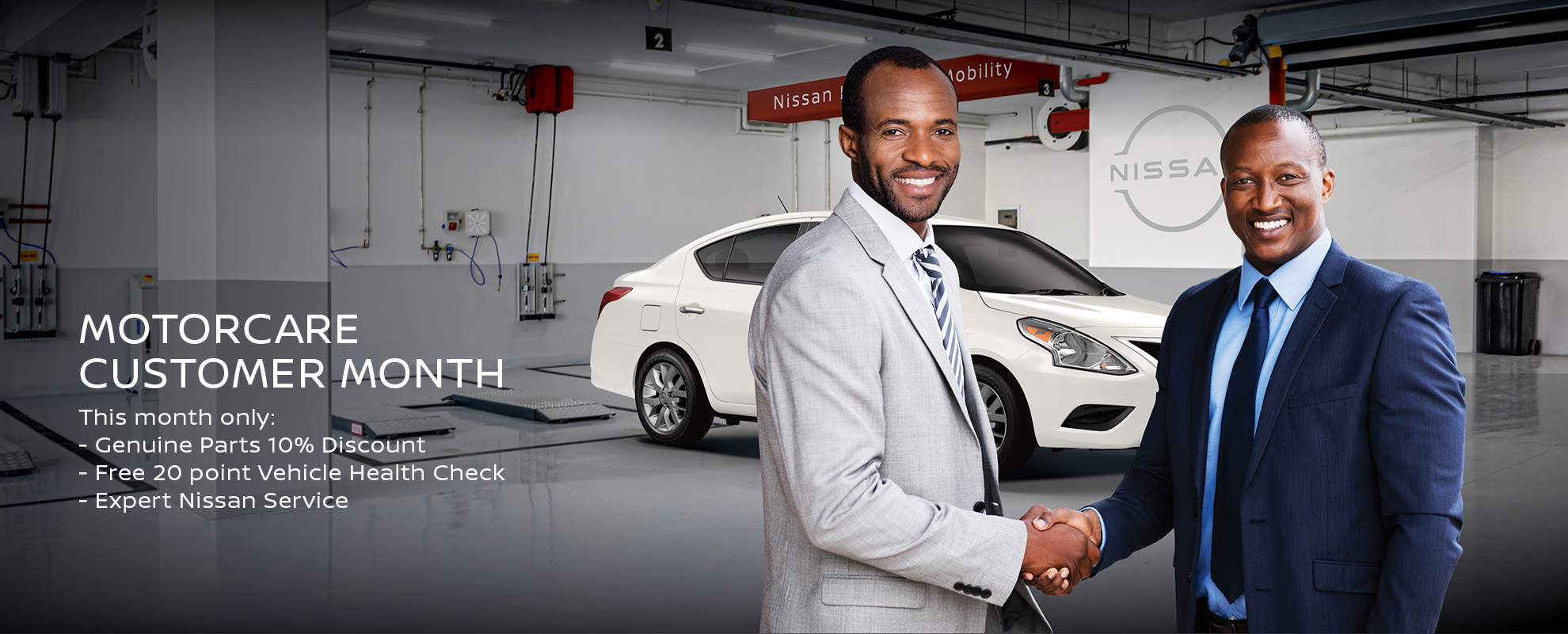 Celebrating Customer Month: Exploring Nissan Uganda's Exceptional Aftersales Services
As October dawns upon us, it's time for Nissan enthusiasts and car owners in Uganda to rejoice! October is recognized as Customer Month by Nissan Uganda, a time when the spotlight shines on the brand's dedication to provide exceptional aftersales services. Have a look at what our Aftersales division offers, that keeps Nissan owners' vehicles running smoothly on the vibrant roads of Uganda.
Nissan Aftersales: Beyond the Sale
Owning a Nissan isn't just about driving a reliable and stylish vehicle; it's about being a part of a community that values its customers' satisfaction beyond the initial purchase. Nissan Uganda's Aftersales services exemplify this commitment, ensuring that your Nissan experience remains top-notch long after you drive off the showroom floor.
Comprehensive Nissan Car Servicing
The cornerstone of Nissan Uganda's Aftersales services is our comprehensive car servicing. We understand that regular maintenance is key to preserving the performance, safety, and longevity of your vehicle. With a team of highly skilled technicians, state-of-the-art equipment, and a deep understanding of Nissan's engineering, you can trust that your vehicle is in capable hands.
From routine check-ups to complex repairs, Nissan Uganda's Aftersales team provides a range of services tailored to your vehicle's needs. Regular servicing not only keeps your car in prime condition but also contributes to a smoother driving experience and reduced long-term costs.
Explore Further: Nissan Car Servicing
Nissan Genuine Parts: Quality You Can Trust
When it comes to replacement parts, compromising on quality is never an option. We at Nissan Uganda understand this sentiment, which is why we offer a range of Nissan Genuine Parts. These parts are meticulously designed and manufactured to the same high standards as your original vehicle components, ensuring optimal performance and safety.
Using genuine parts for repairs and replacements not only maintains your vehicle's performance but also protects its resale value. Nissan Genuine Parts are designed to fit perfectly and function seamlessly within your Nissan, providing the peace of mind that comes with knowing your car is equipped with the best.
Discover More: Nissan Genuine Parts
A Holistic Aftersales Experience
Nissan Uganda's Aftersales services go beyond mere maintenance. They are dedicated to providing a holistic experience that encompasses convenience, expertise, and peace of mind. With a focus on customer satisfaction, the Aftersales team ensures that your Nissan ownership journey remains smooth and enjoyable.
During Customer Month, Nissan Uganda celebrates its commitment to serving its valued customers by offering special promotions, discounts, and exclusive benefits that enhance the ownership experience even further. Whether it's a routine check-up, a complex repair, or the need for genuine parts, Nissan Uganda's Aftersales division stands ready to assist you.
So, as you navigate the vibrant roads of Uganda in your Nissan, remember that your journey is backed by a team that values your satisfaction, safety, and driving pleasure long after the initial purchase.
Celebrate Customer Month with Nissan Uganda, and experience Aftersales services that truly go the extra mile.
Explore More: Nissan Uganda Aftersales Services
Book your test drive today